On 15 June 2016, the game received the "Gamma Exposure" update, and the Karambit | Lore knife appeared. Every Gamma case has the skin available. Karambit can be found in various weapon cases or purchased from vendors. This knife is identical to the standard one in every way. The variations are merely superficial.
Pattern Explanation
The renowned AWP | Dragon Lore served as inspiration for the skin's design. The knife's blade is painted with a translucent medieval pattern and is covered in a layer of gold metallic paint. A Celtic decoration in yellow-orange hues with a dark brown outline adorns the lower cutting edge. The handle is made in a dark green color.
The look of the Karambit Lore is already worth buying. It is not necessary to explain why players buy skins for CS:GO. It is clear that the whole thing lies within a unique appearance. Karambit Lore will definitely impress both opponents and teammates.
Float's Impact
The Float Value of the skin runs from 0.00 to 0.65, and it is available in all conditions. Size and quantity of abrasions, which become visible already in Minimal Wear condition but are nearly undetectable at this point because they mix with the pattern, can be used to gauge the degree of wear. Approximately 30% of the paint layer on the blade peels off at Float Values near the maximum, and there are several abrasions on the grip and ring as well.
Skin Qualities
Covert is a feature of Karambit | Lore. The skin is from the Lore series and offers StatTrak.
Karambit | Lore currently enjoys average popularity:
Because of its distinctive examination motion and high price, this knife is frequently purchased.
Karambit is based on real-life copies of the United Cutlery Honshu Karambit knife.
Due to its distinctive shape and numerous animations, the Karambit is one of the most well-liked and pricey knives in the CS:GO community.
You shouldn't believe that you can purchase a knife for only a few dollars. That is untrue. Even the most used copy of Karambit | Lore will cost at least $500 on Steam and third-party trade platforms. Consequently, the top limit may possibly be $3,000. In general, not only does knife skin pricing depend on wear, but also on certain characteristics like hardness, gradient, web, and patterns.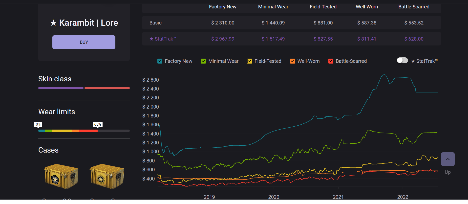 Knives in CS:GO are all extremely rare special equipment. Opening a CS:GO case (chest) has a 0.2% chance of causing you to drop a knife in the basic edition and a 0.2% chance in StatTrak. Knives are sought after by traders and collectors in addition to regular gamers, making them the most wanted item of inventory on Steam and third-party trade platforms.